For the 10 year anniversary of the original Kindle, Amazon has announced an update to its 2016 Kindle Oasis with a new 7″ waterproof version. Also included in the update is the ability to listen to Audiobooks as well. It's a major overhaul, lets explore.
Bigger is Better
The new Kindle Oasis features a 7″ glare-free e-ink screen. Thats a full 30% larger than the 2016 model. At 300 dpi the resolution is akin physical print resolutions, so is easy to read for long periods of time. The device itself is 6.3″x 5.6" x 0.13-.33" and is light enough to hold with one hand.
Wi-Fi: 6.8 oz (194 g)
Wi-Fi + Free Cellular Connectivity: 6.8 oz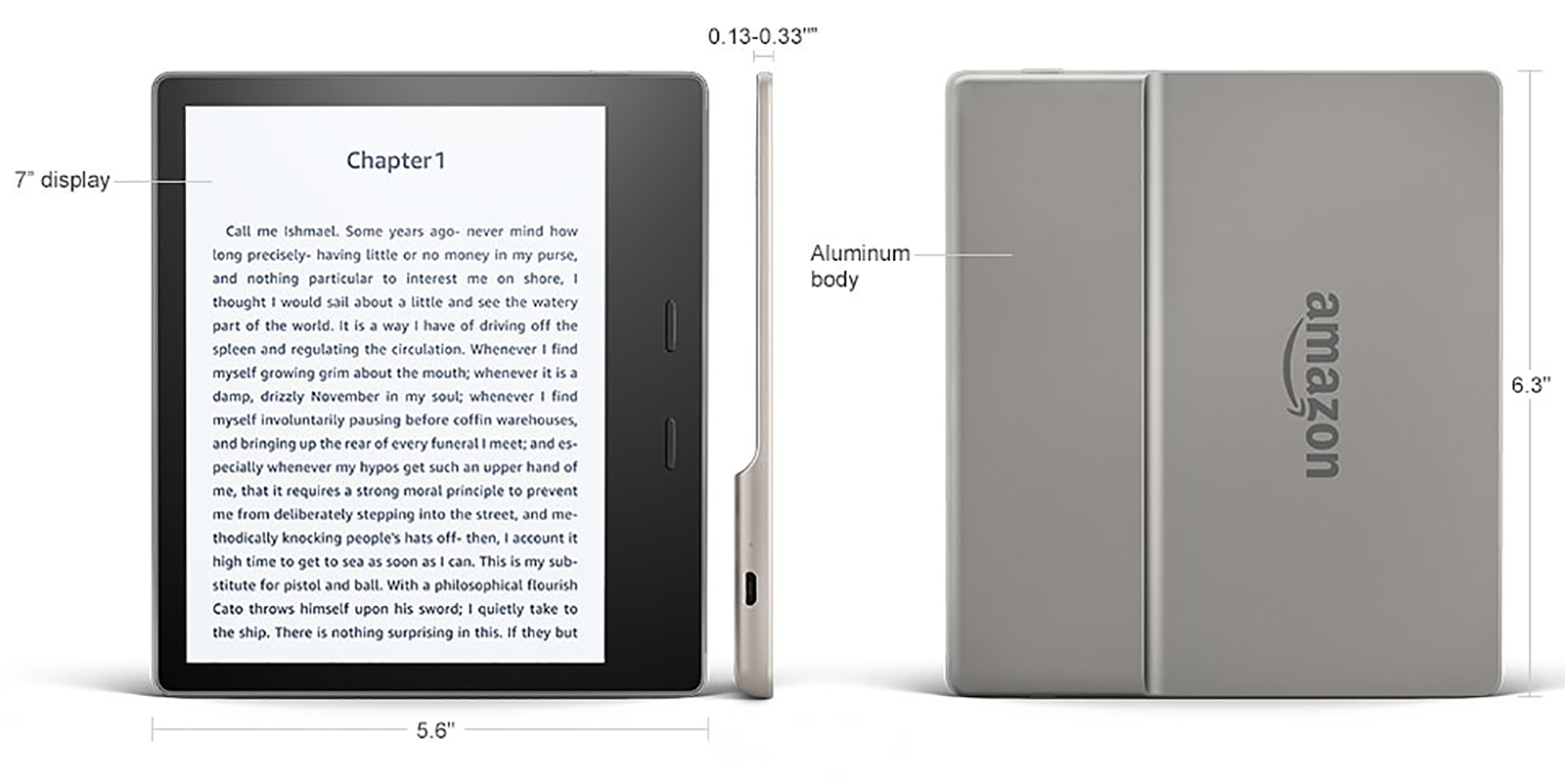 Also bigger is the storage. The new Kindle comes in either 8GB or 32Gb models.
Wet Reads
Have you ever been swimming and thought to yourself, "Hmm…I feel like reading a book." Well good news! If you order the new Kindle Oasis it's IPX8 waterproof rated, which means it can be submerged in fresh and salt water up to 6′ deep for up to 60 minutes. So go scuba diving while reading Moby Dick if you so desire…the future is awesome!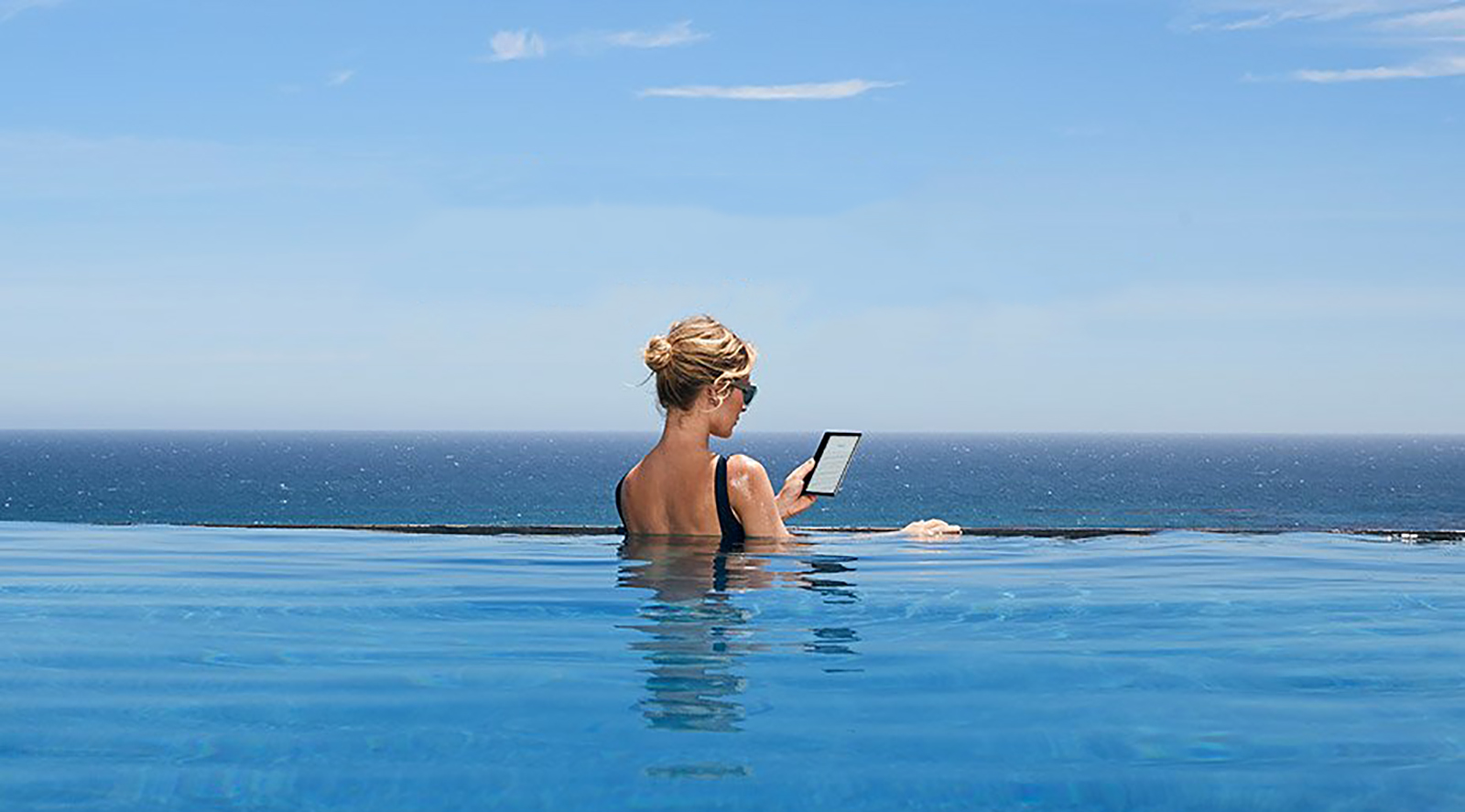 Audible!
The Oasis includes Bluetooth and can now playback audiobooks from Audible. Whats neat is that Whispersync works between the ebook and the audiobook, so pickup wherever you left off (assuming you have both versions.) This is a cool feature although I question how many will use it, since most people I know who listen to audiobooks tend to be driving, and do so over the car stereo system not with headphones..or just use their Audible app on their phone.
Crazy Battery
One of the best things about Kindles is their epic battery life. A single charge lasts up to six weeks, based on a half hour of reading per day with wireless and Bluetooth off and the light setting at 10.
Buttons!
I've never liked the lack of physical buttons on the newer models of Kindles, thankfully Amazon has gone back to that design methodology with the new Oasis.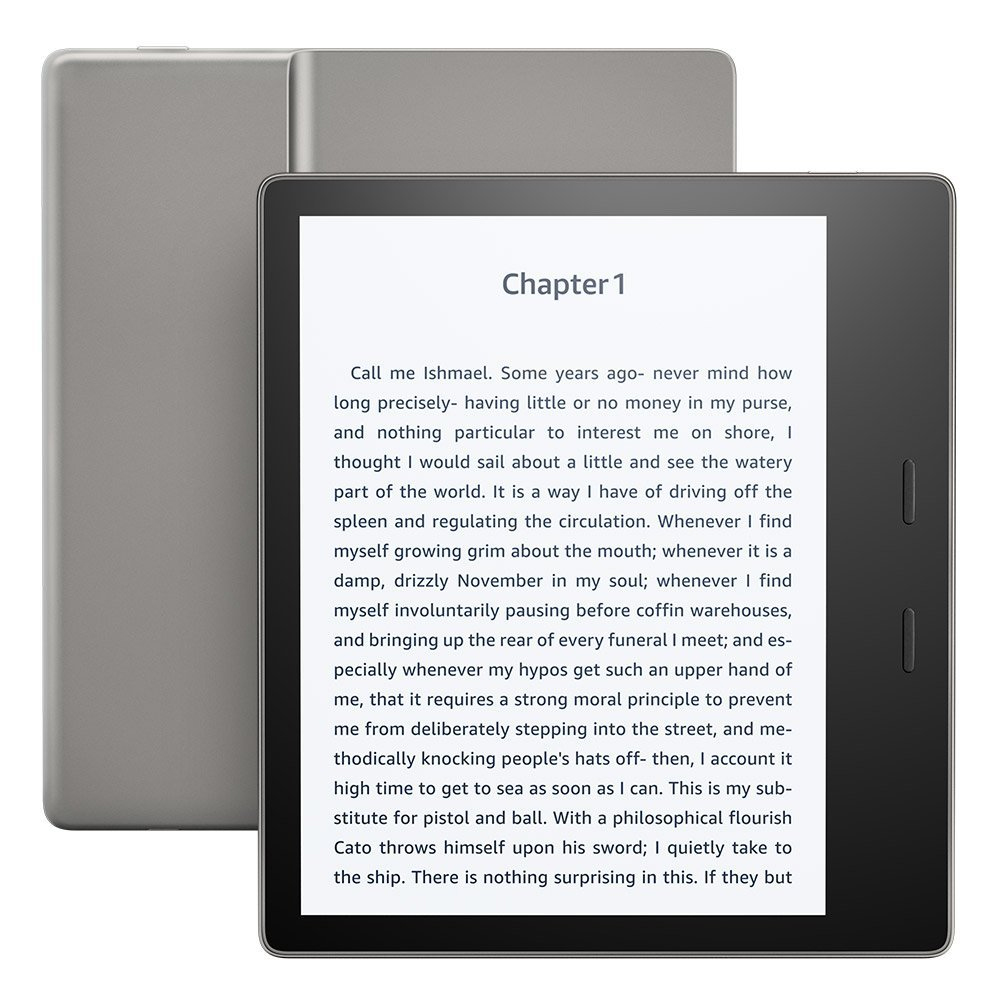 Pricing
Pricing for the base model starts at $250. That gets you an 8Gb wifi only model. For $80 more you can get the 32Gb model plus cellular connectivity.
Woo thats a pretty chunk of change for an ebook reader when you consider that the Kindle Paperwhite starts at $120 but if you like to read in the tub well then, go for it!